Today I wanted to share a band that I enjoy listening to, called 16 Horsepower.
Wikipedia describes 16 Horsepower as alternative country, and I would be inclined to specify it as dark roots or black folk.
This song is, in my opinion, the best example of their sound:
They are very distinctly country, but with a dark tone that calls to mind dark cabaret and even the industrial sound.
It's a style of music that I think I want to learn how to play. What it seems like to me is the kind of thing that I've tried to play in the past, not quite realizing what it was, so therefore not quite actualizing the style I was approaching.
This is a picture of my guitar: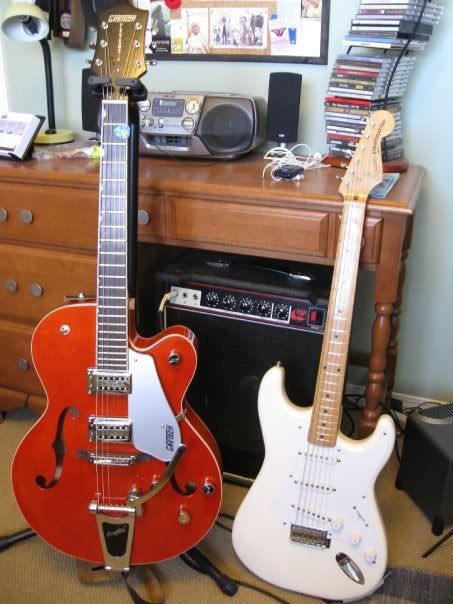 (The one on the left is the one I currently play.)
It really seems to fit for a bit of country twang, as well as anywhere from mellow folk to some really crunchy buzzed rock. It's got a lovely tone, especially when I'm pushing the amp beyond volumes at which it's still comfortable. It's an old amp and it's starting to give up on me, but in the meantime it has an awesome natural overdrive if I just turn the volume up.
The music I'm most influenced by is darker country, like 16 Horsepower, and especially Johnny Cash's later work on American recordings. After that I'm influenced by such bands/musicians as Social Distortion and Rancid, Steve Wynn, Tom Petty, The Trews, some of R.E.M., XTC, etc.. I'm sure I'll think of a bunch more after I publish this post, but such is life.
I'm a big fan of the sound of slide guitar. I love fiddling around with an open tuned acoustic and a slide. I'm not particularly good at it, but I wish I was. There's so much that can be done with a good lap steel. Given the free time someday in the future, that's first on my list to learn. Second is country/folk violin, but I imagine that would be a lot harder.
Happy second Sunday of Advent, starting tomorrow.